Quality From The Start
Proudly Premium
Sterling Silver® Premium Meats are an important part of delivering amazing dining experiences for your customers. Our beef is developed specifically for select restaurants that carefully choose their ingredients to ensure the very best in every dish. Our stringent selection process ensures all our cuts are guaranteed to have the qualities you'll see here.
A Trusted Partner
We can say a lot of great things about our beef. But we like the way our chef partners have described it.
Chef Thomas Pivec
Lord Fletcher's, Sterling Silver Signature Chef
"Sterling Silver knows everything from the animal to the end product. No one else has a story like that."
Chef Michael Siehien
Bedford Social Club, Sterling Silver Signature Chef
"I'm just going to go with the best product. That's one thing you don't want to worry about is consistency. And honestly, I tell you, Sterling Silver has really been consistent, and is just a great product."
Chef Nick Unangst
SERG Restaurant Group, Sterling Silver Signature Chef
"I started using Sterling Silver by accident. It was a throw in during a cutting with some other companies and I wanted another viewpoint and it actually won the cutting, and every cut that we tried was not what I expected. We've been using Sterling Silver ever since."
Committed to Consistency
Featured Farm: Schurrtop Ranch
With more guests and chefs demanding responsible sourcing of ingredients, we believe transparency in our process is paramount. We're here to answer any questions you might have about our commitment to consistent and humane sourcing from family farms in the heart of the midwest.
An Industry Leader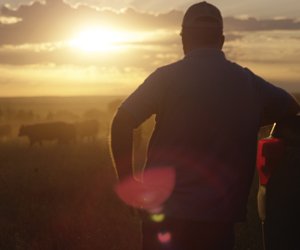 A Promise to Our Customers
Cargill is committed to feeding the world in a responsible way while reducing our environmental impact. We have more than 142,000 employees in 67 countries providing food, agricultural, financial and industrial products and services to the world. The strength, international reach and abundant resources of Cargill ensure you can count on us for everything you need to grow your business. For more information, please visit the Cargill site here.
Protecting and preserving natural resources is a priority at Cargill, and we constantly strive to develop new ways to do so. We have committed to achieving Environmental Management Systems and ISO 14001 certification at all facilities, and since 2001 have improved water usage efficiency, improved energy efficiency, reduced solid waste and reduced greenhouse gas emissions.