In January of 2022, we handed over full access of our Instagram account to Sterling Silver Signature Chef Sera Cuni. She showed us what a day in her life looks like, including how she uses Sterling Silver® Premium Meats at The Root Cellar Café in North Carolina. Here's a recap of everything she shared.
We got a great look at the back of house crew, their setups and seeing how active it can get.
We watched cook TT prepare a bulk batch of beef stew using 100 lbs. of Sterling Silver® Chuck!
Chef Sera showed us how she prepares braised short ribs for a dinner special.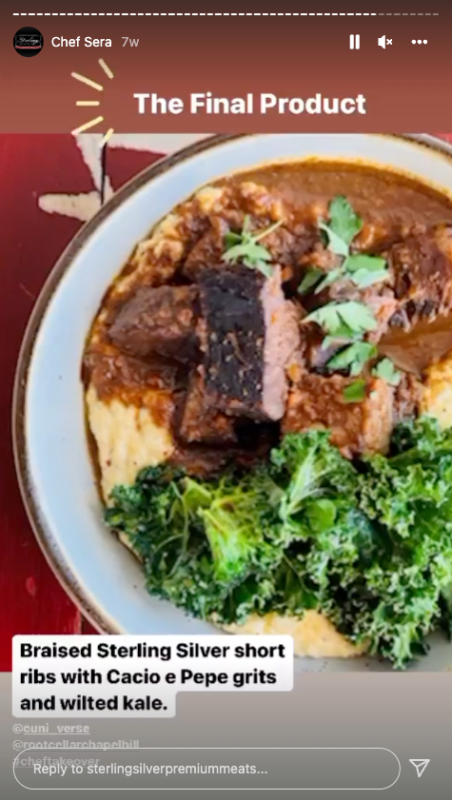 Our followers sent in a lot of good questions during her Q&A session:
What's your favourite cut of beef to work with?
"I'm in love right now with short ribs, they can do so much and have great flavour! It's winter so slow and low is the way to go with them. They go well with all sorts of cuisines and my new favourite way is the Mexican birra."
Are you playing around with any new international dishes?
"I'm really digging southeast Asian, Indian and Mexican lately. And I love to mix cuisines and keep people guessing and I found that tacos work best for me. I've made Indian and Korean tacos that have people raving."
What is your favourite dish to make?
"My favourite is Cacio e Pepe. It's super simple, but if you've had it done right, it's simply amazing!"
What is your approach to seasoning beef?
"I really like to taste the beef flavour so if it's a steak I'm just going to use salt and fresh black pepper."
What's some advice you'd give to new chefs?
"It's not where you went to culinary school anymore. It's if you can cook and keep a notebook with you and write everything down."
We also got a tour of the front of her restaurant, The Root Cellar Café in Chapel Hill, NC.
Thanks again, Chef Sera, for the takeover! Check out Chef Sera's Instagram story here and follow her on Instagram at @cuni_verse.